Doors range in construction and materials based on what kind of door it is
Let your patio door reflect your personal style.
Explore the colors, styles and options Wilson Glass has available for any new home or replacement patio door project. Patio doors have come a long way in their ability to enhance the look and style of your home. Learn how Wilson Glass custom made patio doors can help you add character to your home and make a statement with a free, no-obligation consultation.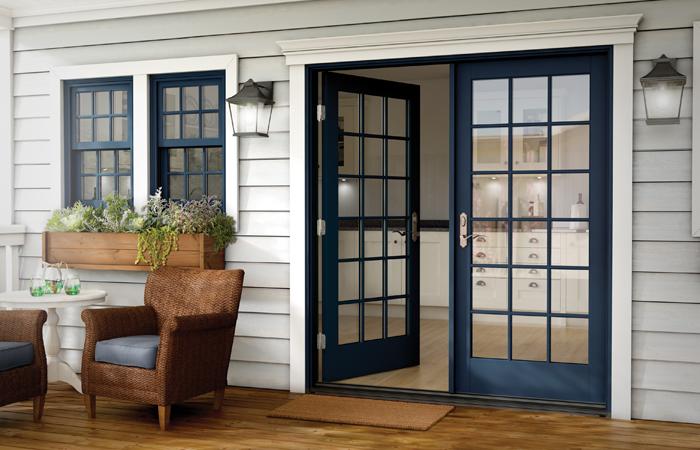 Wood Doors
Once the standard material for door frames, interior wood frames coupled with exterior
fiberglass results in timeless beauty and durability against the elements.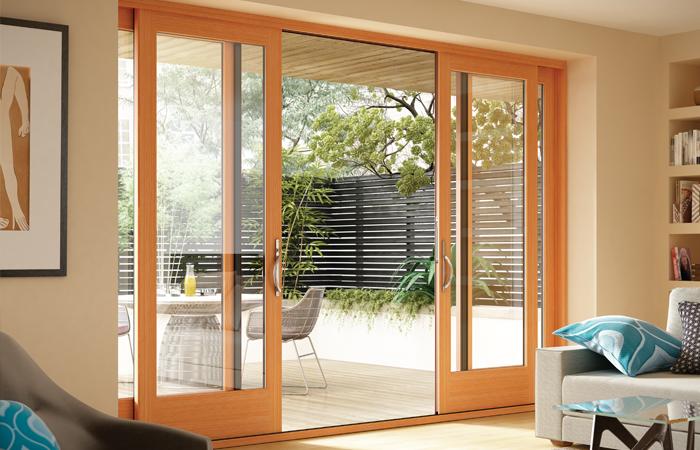 Advantages of Wood Frames
Warmth of solid wood grains
Paintable
Excellent insulating properties
For years, wood has been a readily available window substrate, and the most common choice for homes. It could be painted a solid color or stained and sealed to show off the wood grain. Wood is also strong and easy to work with, is a natural insulator and complements many forms of architecture.
Compared to vinyl and fiberglass, wood window and door frames require more maintenance. Regular sealing, staining or painting is needed to prolong the beauty of the wood. Frequent touchups and the occasional refurbishing, sanding and applying new coats is almost always required.
Milgard Moving Glass Wall Systems are beautiful glass walls that provide a new way to experience indoor outdoor living. Moving Glass Wall Systems offer:
Aluminum and aluminum-clad wood frame color options
Your choice of three effortless operating styles for design freedom: stacking, pocket or bi-fold
Tandem stainless steel ball bearing rollers that allow the door to smoothly glide open and close
A standard water barrier sill, or optional flush sill upgrade
A 10 year limited warranty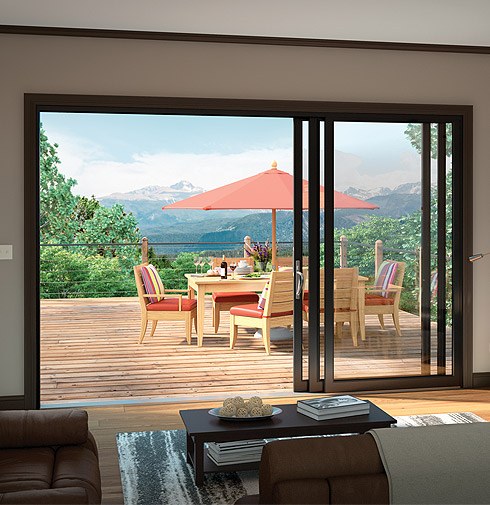 Fiberglass Doors
Exceptionally strong and low-maintenance fiberglass window and door frames
from Milgard are ideal for any style and climate.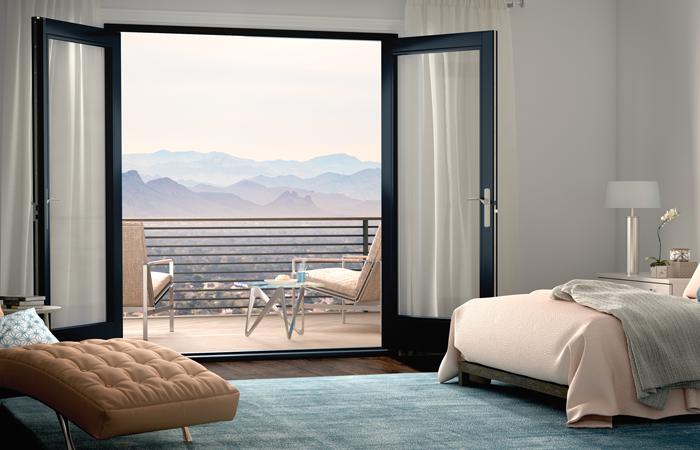 Advantages of Fiberglass Frames
Traditional wood profile
Extremely strong—can hold large expanses of glass
Paintable
Low maintenance
Fiberglass frames are essentially composed of glass fibers and resin, materials that expand and contract very little with temperature changes in the weather.
Until recently, the complex profiles required for window designs have been impossible to attain with fiberglass. Innovation has made it possible to design a fiberglass frame and fiberglass windows and patio doors are becoming more popular among homeowners for its beauty and long-lasting durability.
Fiberglass windows and doors resist swelling, rotting and warping. The frame expands and contracts at approximately the same rate as the insulated glass it holds for improved energy efficiency and strength. While fiberglass frames do not require repainting for upkeep, the material is able to be repainted if you prefer to change colors.
A Frame for All Seasons.
Create a grand entrance with Ultra Series fiberglass, French-style patio doors. These French doors are a simple addition that can add intricate detail to your space. Available in traditional swing style or sliding, you can enjoy a beautiful view of the outdoors while admiring the elegance of the door itself.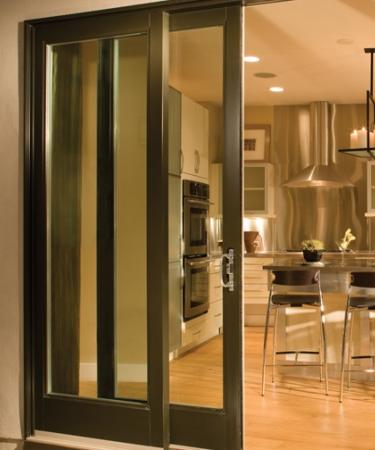 Exterior Frame Colors
Ultra Series fiberglass patio doors are available in seven exterior frame colors to match your home beautifully. All Ultra Series interiors come in white, except Harmony, Bark and the popular Black Bean, which can be color-matched for the interior and exterior.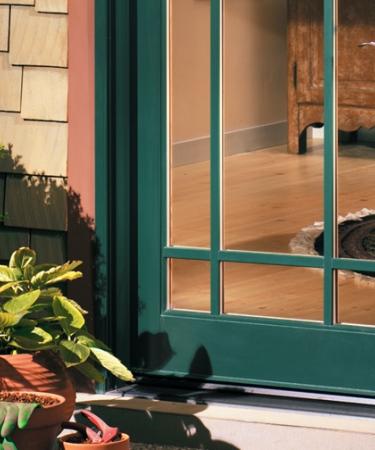 Durability and Energy Efficiency
Ultra Series fiberglass patio doors are strong. Because of its inherent properties, fiberglass is resistant to swelling, cracking, warping, peeling, splitting, corrosion and is virtually impervious to water. Choose from our energy efficient options to meet or exceed ENERGY STAR® requirements in your specific region.
Hardware
Milgard® Ultra Series patio door hardware is not only attractive, it's also easy to operate, durable and secure. Painted finish colors include: dark bronze, white, clay, black and tan. Plated finishes are brushed chrome, or satin nickel.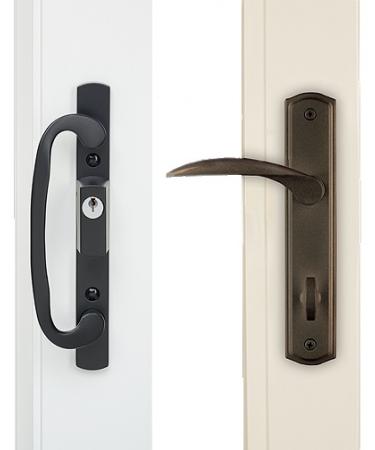 Vinyl Doors
Not all vinyl window and door frames are the same. Milgard manufactures its own
vinyl compound assuring quality and consistency over time.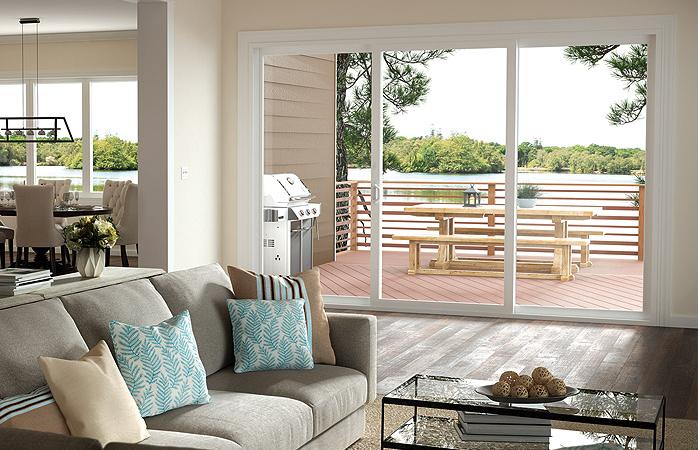 Advantages of Vinyl Frames
Extremely durable
Non-corroding
Virtually maintenance-free
Exceptionally energy efficient
Vinyl frames are made primarily from polyvinyl chloride (PVC). This material has many advantages, including being virtually maintenance-free. There will be differences in the quality of one manufacturer's vinyl compared to another.
This is because a vinyl frame is made from a compound—a recipe of sorts—that dictates its performance over time. Each additive to a company's vinyl recipe helps determine the long-term characteristics of the final product, like its weather and impact resistance. For example, titanium dioxide makes the vinyl more heat resistant. At first glance, competing windows may look the same, but there can be key differences in the vinyl recipe used and how vinyl parts are formed to make a window structurally strong and optimize insulation performance.
Our Premium Vinyl Patio Door
Milgard® Tuscany Series is our top of the line vinyl patio door that can make a world of difference in your home. Each patio door is custom made to your exact measurements from our signature vinyl formula and crafted with award-winning hardware. Whether you are looking for elegant French Doors or Sliding Doors, there is a Tuscany Series option for you. Great for remodeling projects or replacement patio door needs.
Signature Vinyl Formula
Not all vinyl is created equal. The Milgard signature vinyl formula consists of top quality ingredients. We extrude our own frame material, which has been tested to meet the American Architectural Manufacturers Association's (AAMA) stringent requirements. This results in a vinyl patio door that has structural integrity.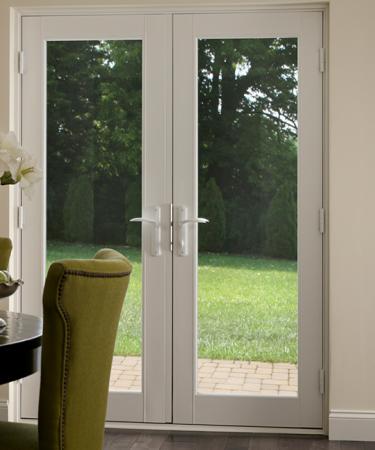 Exterior Frame Colors
Milgard Tuscany Series vinyl patio doors are available in eleven exterior frame colors. From bronze to rich, bold espresso, get inspired with all the possibilities. Milgard developed a coating technology allowing UV rays to pass through the paint and reflect off the frame, preserving the exterior color and finish.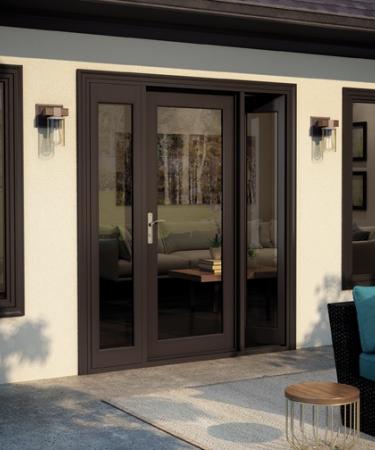 Durability & Energy Efficiency
Milgard produces our own vinyl formula to create the Tuscany Series, high performance patio door, designed to withstand harsh climates. These patio doors can meet or exceed ENERGY STAR® standards in your area when you select one of our energy package options.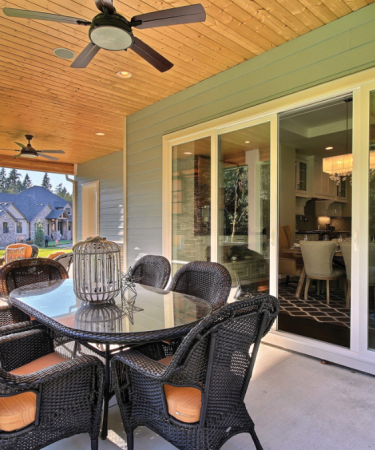 SmartTouch® Hardware
Tuscany Series sliding patio doors use a SmartTouch® handle allowing you to unlock, open and close the door in one motion. The SmartTouch handle exceeds rigorous California forced-entry requirements. Add the SmartTouch Bolt as an optional lock to secure the sliding panel into the top frame.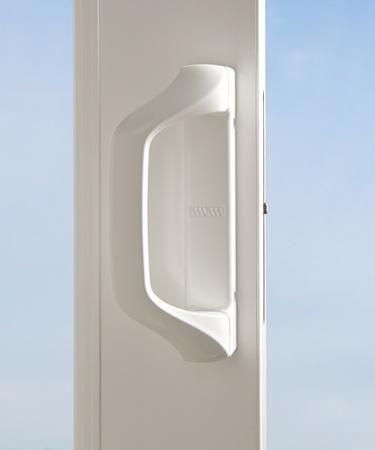 Contemporary Look. Narrow Frame
The Trinsic Series vinyl patio door is our newest and most contemporary vinyl sliding door available. The narrow frame profile provides the maximum available viewable glass area to help you enjoy amazing outdoor views. The newly designed, sleek hardware features 90 degree angles for a very modern flair. It's the perfect look for contemporary homes.
Contemporary Frame
If you are looking for a vinyl patio door with a contemporary feeling, our new Trinsic Series is for you. The sleek style is the perfect way to create a modern look for your home and the maximum available viewable glass area can help highlight amazing views.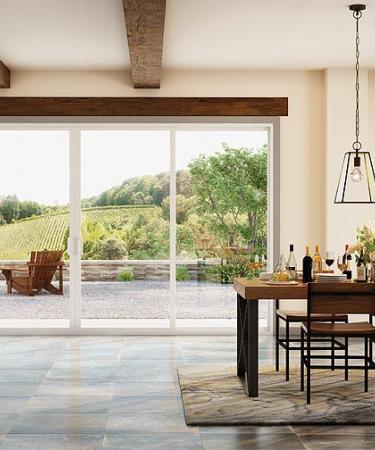 Durability & Energy Efficiency
We produce our own vinyl formula for the Trinsic Series patio door. The durable frames will not absorb moisture and do not require painting. Talk to your Milgard Certified dealer about ENERGY STAR® requirements in your area when you select one of our energy package options.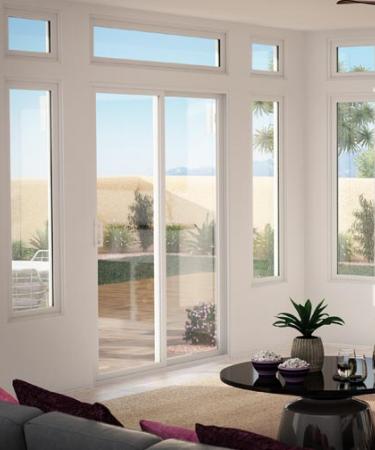 Hardware
Trinsic Series sliding patio doors some with a newly designed, squared off handle. This crisp, clean, contemporary look offers a very modern flair. Consider the optional upgrade for an even narrower handle that blends seamlessly into the frame.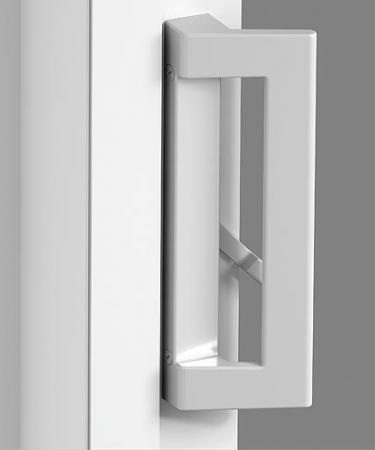 Signature Vinyl Formula
We're proud of the signature vinyl formula we use across our vinyl line. We also extrude our own frame materials and fabricate them in house for a quality patio door that meets our high standards, and yours.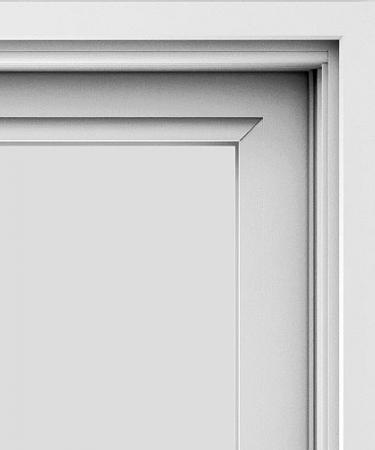 Aluminum Doors
The strength and distinct feel of aluminum has made it timeless and the choice
of architects and homeowners alike for windows and patio doors.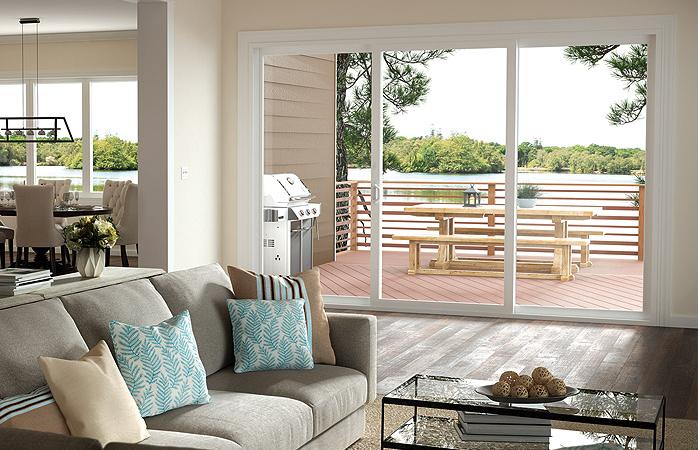 Advantages of Vinyl Frames
Slim Profile
Durable
Narrow Sightlines
Low Maintenance
Light yet strong, aluminum frame windows and patio doors can be configured into a wide variety of combinations. The narrowness of the frame places the focus on the glass and subsequently, the view it offers.
Multi-panel glass walls are often made with aluminum frames to facilitate indoor/outdoor living. Milgard aluminum frames are available in anodized or baked-on finishes for long lasting color. Sealed, mechanically joined corners stay square and true over years of use.
Aluminum is not recommended in beach homes for while the material is water resistant, it can suffer corrosion from salt water and salt air. The corrosion affects hardware operation and frame performance.
Be Inspired with Design Freedom
For a contemporary style, it's hard to beat Milgard Aluminum Series patio doors. Great for replacement projects and new construction, aluminum patio doors offer narrow sight lines to inspire design freedom. They are beautifully thin and extremely durable making them a popular choice when maximum views are desired.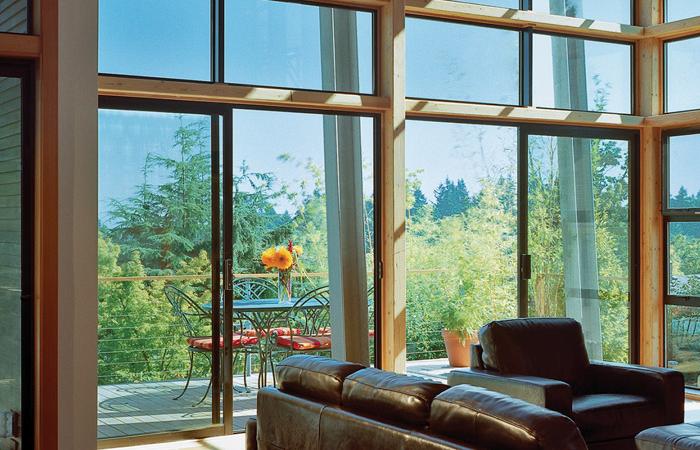 Strength
These patio doors are designed with clean, narrow sight lines that only the strength and stability of aluminum can provide. Milgard Aluminum Series patio doors are built with high quality components that start with our rollers and go all the way to the frame itself.
Contemporary Frame 
Aluminum patio doors provide narrow frames and clean lines offering a very contemporary look in any home. When a modern architectural style is desired, these patio doors can achieve a variety of contemporary design requirements.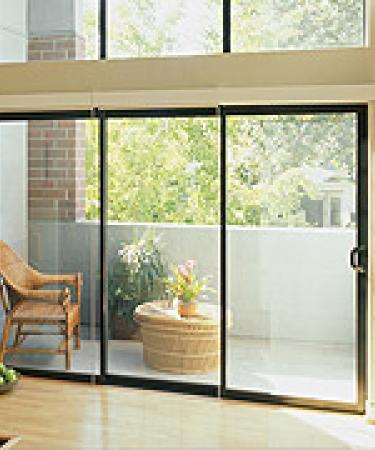 Energy Efficiency
Milgard Thermally Improved Aluminum patio doors are equipped with a thermal barrier that makes them more energy efficient. Polyurethane is placed between the frame to create a thermal break reducing the flow of heat and improving insulating ability. (Not available in all areas.)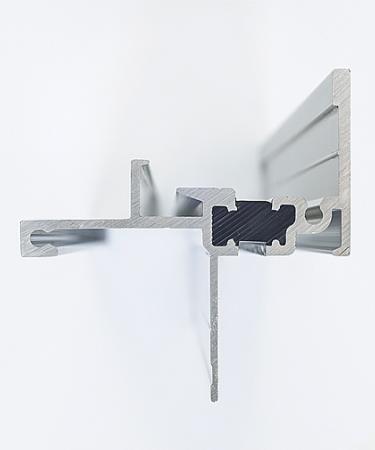 Durability
Aluminum patio doors beautifully accentuate the clean, thin lines of contemporary design with their narrow sight lines and modern metal look. They have an extremely long life and are highly resistant to outside weather elements due to their rigidity and durability.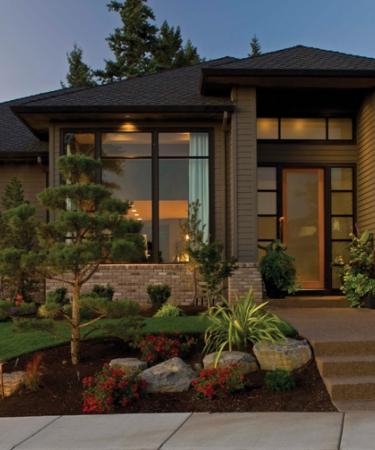 Moving Expectations and Possibilities
Open up to an entirely new way to look at luxury. Milgard® Moving Glass Wall Systems are an innovative way to experience indoor outdoor living. Aspirational, yet realistic, these sliding walls seamlessly transition between dreams and reality.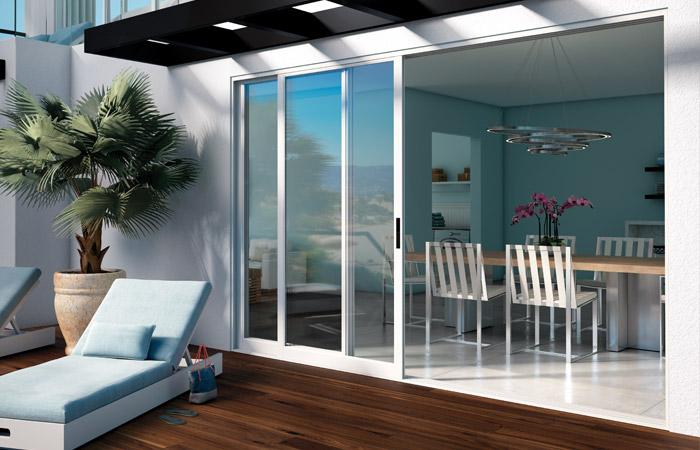 Design
Milgard Moving Glass Wall Systems beautifully integrate with the other Milgard windows and patio doors in your home. Available in custom sizes for replacement projects in addition to standard sizes for new home construction.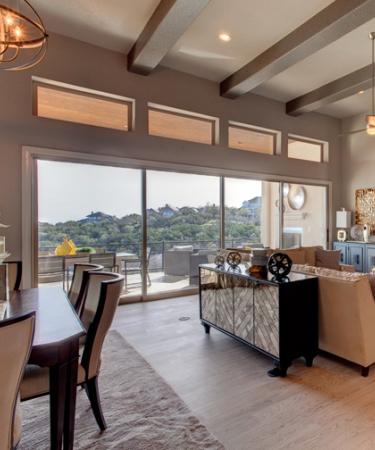 Ease
Moving Glass Wall Systems operate smoothly and effortlessly. Despite their larger-than-life size, these doors open and close with ease to bring the outside in, or expand your living space. The secret is the tandem stainless steel ball bearing rollers that are strong enough to carry door panels nearly double their size.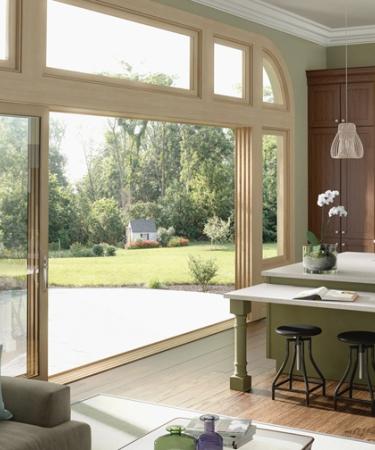 Confidence
Our proven history as one of the most trusted names in windows and exterior patio doors assures that a Milgard Moving Glass Wall System will be installed correctly and function properly. Enjoy the very best pairing of functionality and design.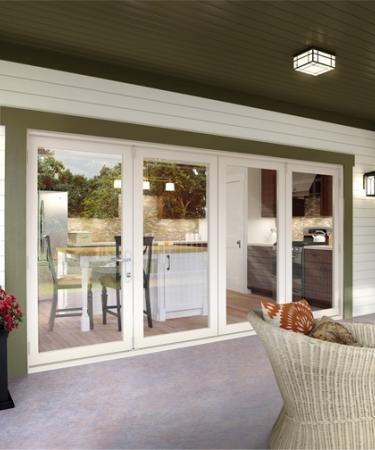 Trusted Partners
Our site offers a variety of information about the products we stock and sell to our customers.
Request a FREE, no-obligation appointment with us!